Grouts
Mapei Ultracolour waterproof flexible wall and floor grout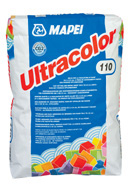 A fast setting and drying grout for 2 to 20 mm joints, available from Tile Doctor in 6 colours.
Use for interior and exterior grouting on all types of ceramic walls and floor tiles (double fired, single fired, klinker, porcelain, terracotta, etc.), glass mosaic, natural stone, concrete-framed glass blocks, etc. Easy to apply and finish.
Ensures perfect colour evenness, does not produce surface efflorescence, dries rapidly, therefore floors and coverings are ready for traffic rapidly.
Suitable for grouting joints on external façades, balconies, terraces, swimming pools, bathrooms and kitchens. Particularly suitable for grouting floor joints of supermarkets, motorway services, restaurants, airports and public premises. Coverage depending on the size of the joint


Source: Tile Doctor – Mapei Grout Shop