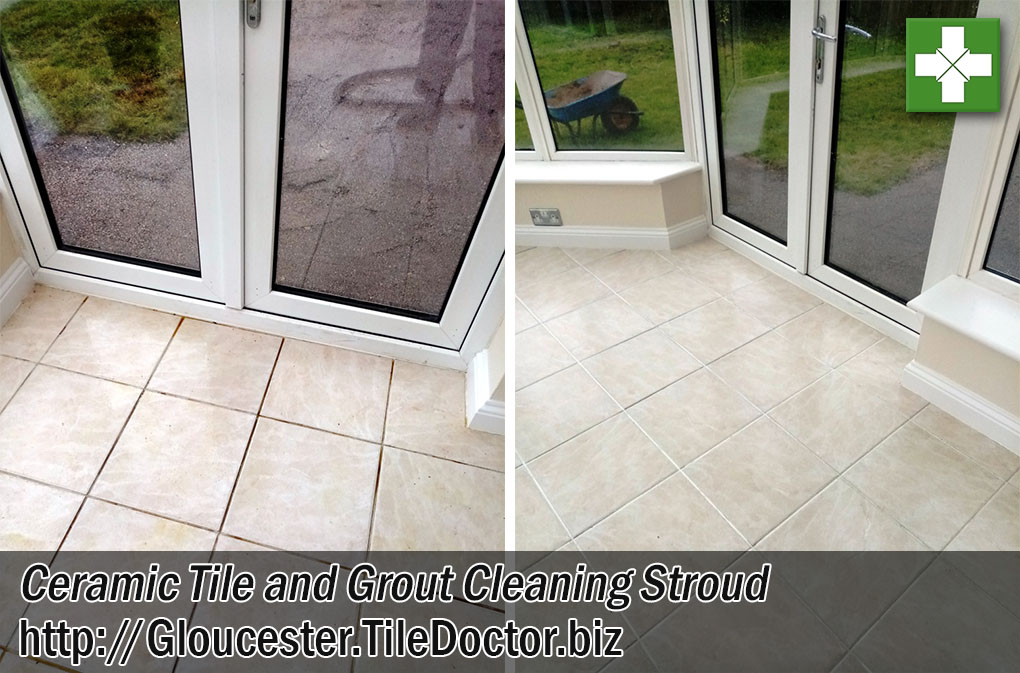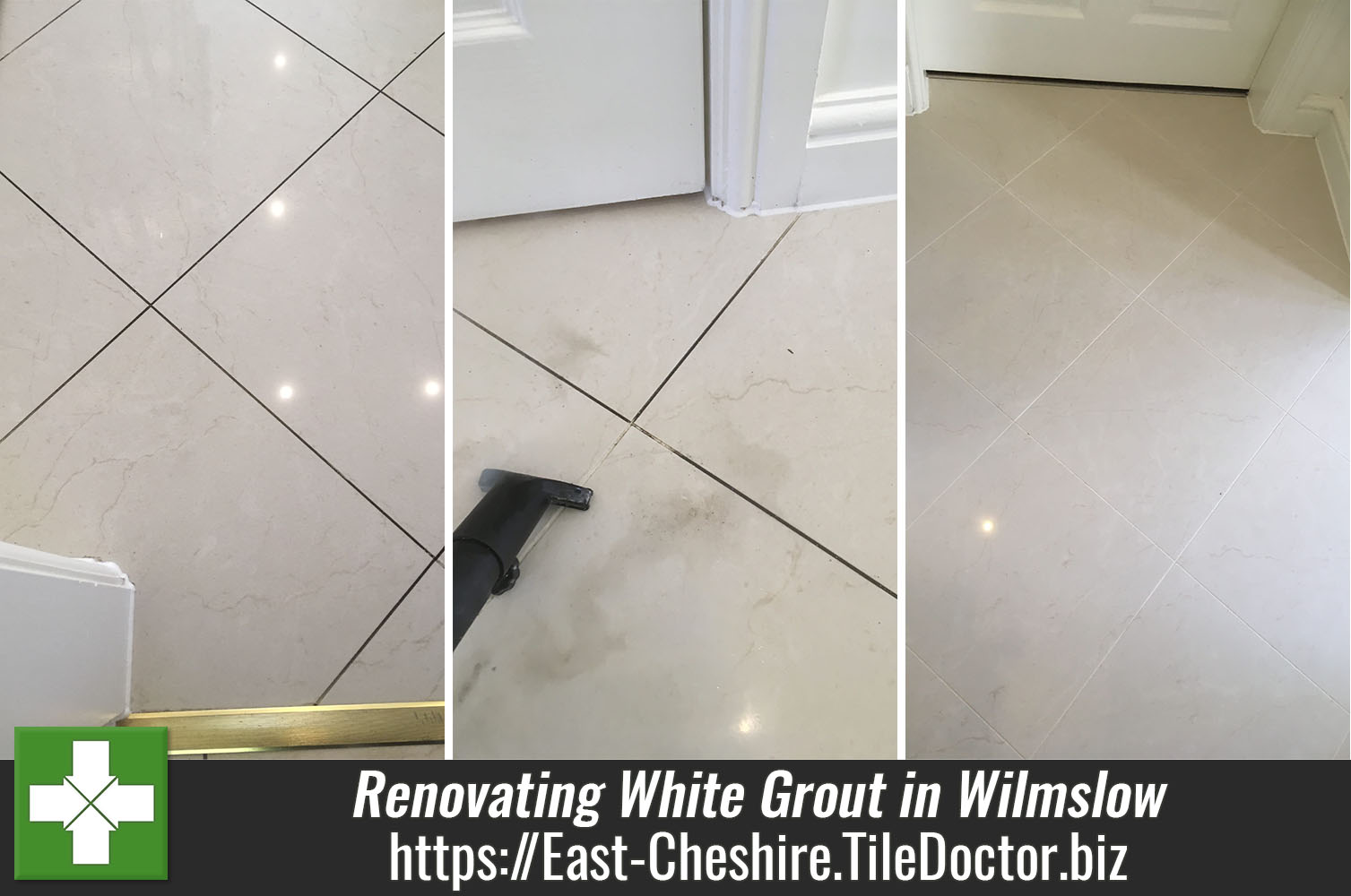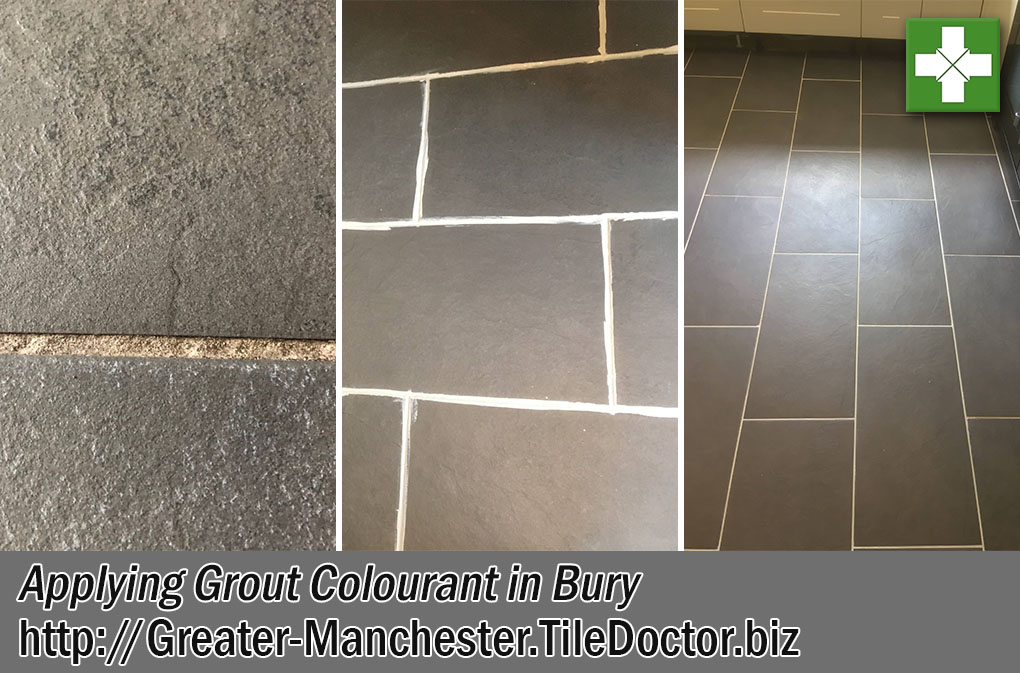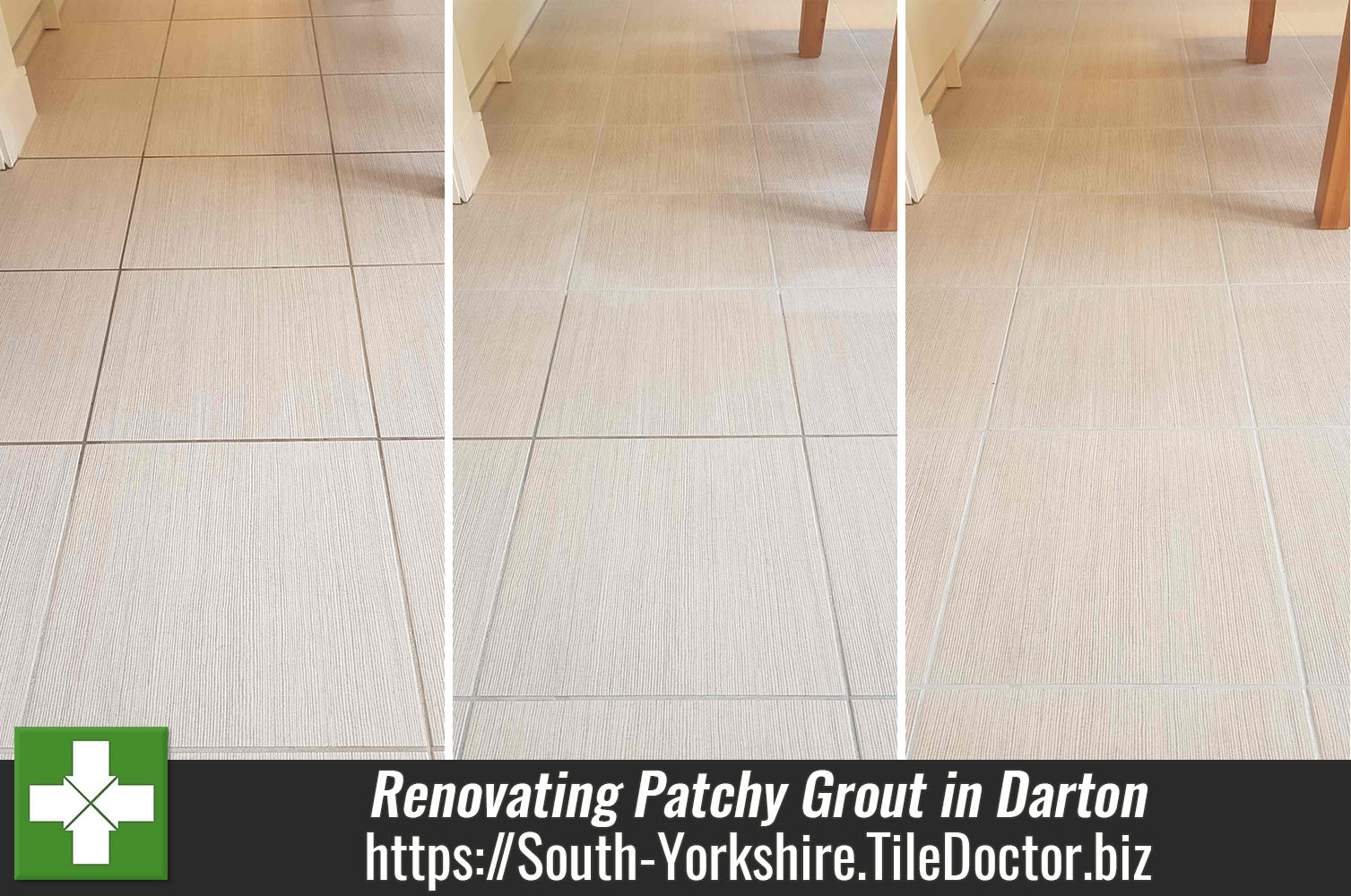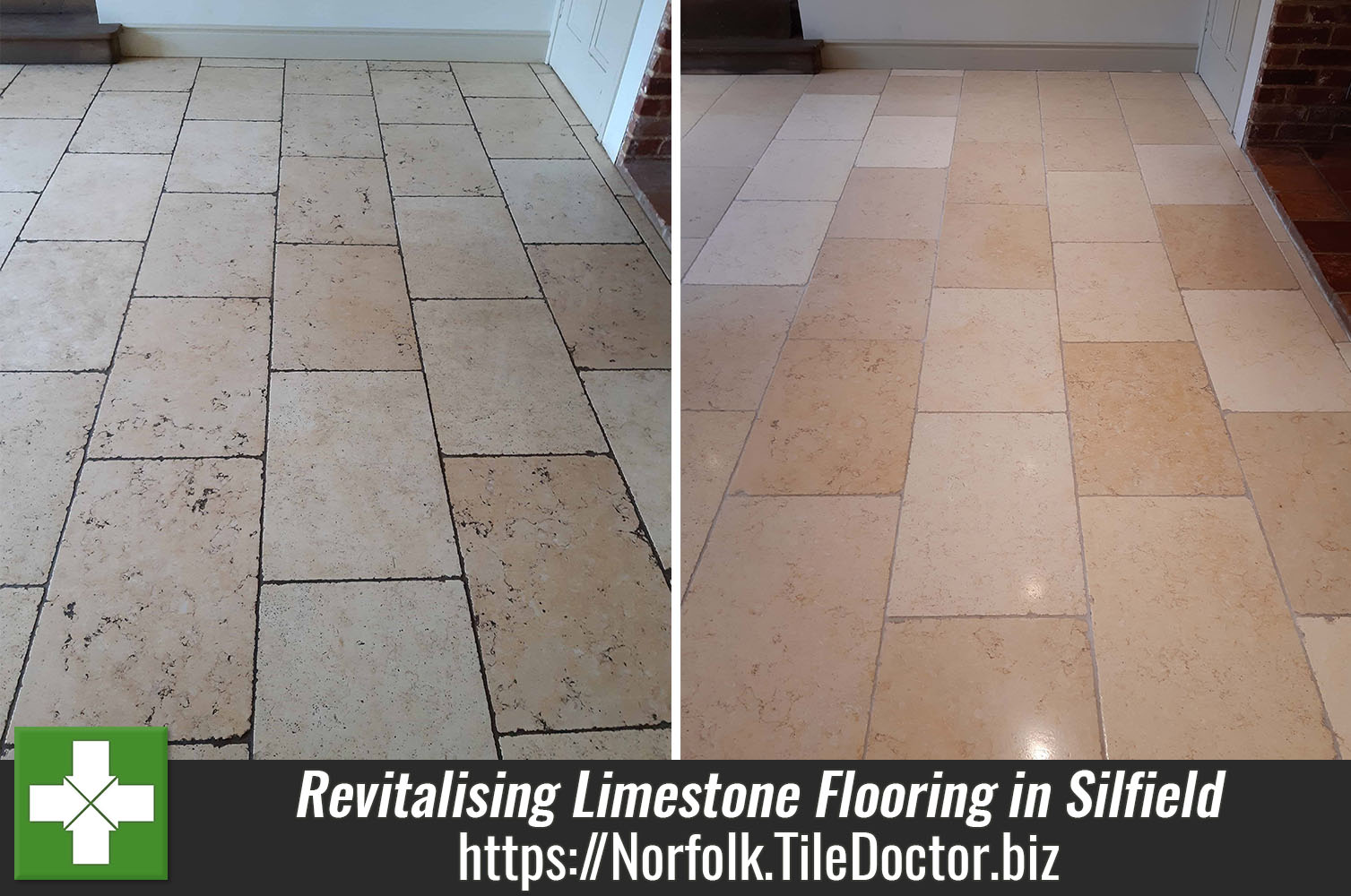 Grout Cleaning and Grout Haze Removal
Grouts are porous and, as a result, they easily absorb grease, dirt and lime scale. Spillages such as wine, lemonades or greasy substances will cause marks and patches in the joints in the floor. Grout between wall-tiles, particularly in damp areas like bathrooms, will become dirty and unattractive as a result of Mould, Mildew and Limescale.
Mould is one of the most unsightly problems, which usually starts off in the wettest area of the room, this could be the bottom of the shower or bath, then starts to spread and if left unchecked could cover a large area of the wall.
Discolouration of grout joints in bath or shower areas due to continued use of acid formulated shampoos and soaps. This causes yellow orange and pink stains to the grout over even a short period of time.
The answer is obvious, protect the grout using a sealer. Although relatively unknown in the UK, protection awareness is growing. Sealing forms an invisible barrier between the grout and the surface, this will then protect your investment for years to come.
---
GROUT CLEANING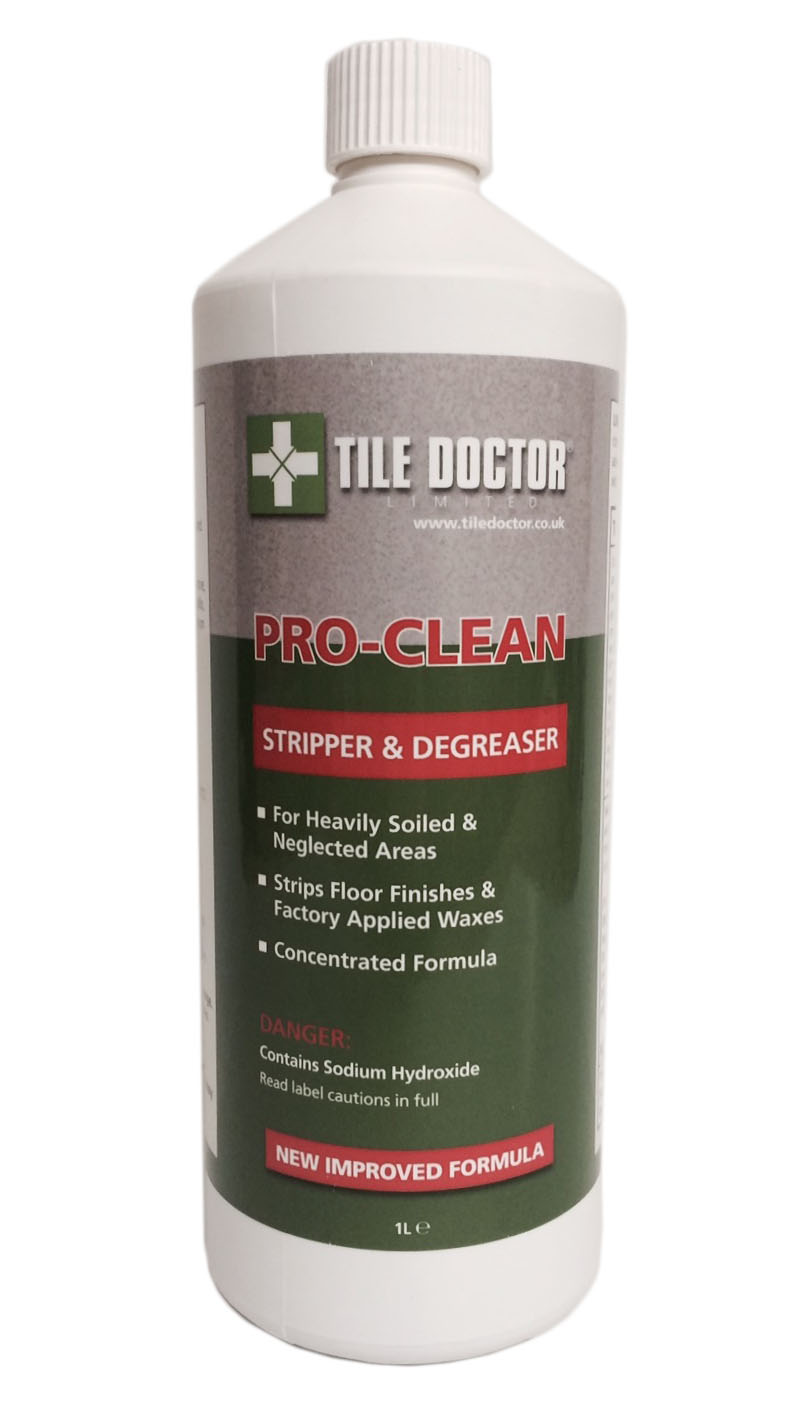 A concentrated, multi-purpose high-alkaline cleaner, stripper and degreaser. Dilute with 3 to 5 parts water to use as a very effective cleaner that removes grease, soap scum, body oil, mildew and algae from areas that have been neglected or subjected to heavy use. Dilute with 2 parts water for the stripping of synthetic and acrylic waxes and floor finishes.
Use Tile Doctor Pro-Clean Tile, Stone & Grout cleaner; highly effective against wax sealers, grease, grout stain, grime and general dirt build up.
Always follow the instructions on the bottle.
Click here for more information about Tile Doctor Pro-Clean
---
Mould Removal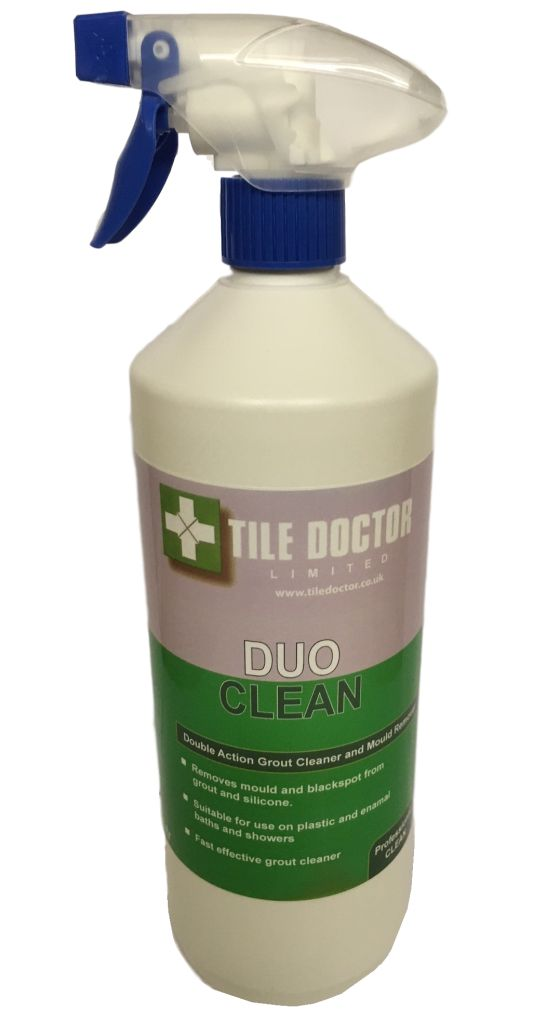 To tackle Mould mould and blackspot from grout and silicone apply Tile Doctor Duo Clean. It's double impact formula is designed for the cleaning of Tile, Grout and Silicone mastic sealant in bathroom and shower rooms.
Please visit the Duo Clean product page for more information.
---
Neutral Cleaner

Most tile cleaning products sold on the market today are designed for cleaning ceramic rather than stone surfaces, as a result they can slowly etch away at the sealed surface of your stone floor reducing the life of your sealer. The Tile Doctor range of neutral Tile and Stone cleaners are especially formulated for the regular cleaning of Sealed Stone and Tile surfaces keeping them fresh.
It's PH neutral phosphate free formula ensures your sealed surface remains undamaged eliminating soap scum build up, hard water deposits.
Uses
Use on Grout, Natural Stone floor, Ceramic, Porcelain, Adobe Tile, Quarry, Terracotta, Masonry surfaces or other water-safe surfaces. This cleaner is ideal for sealed floors, its neutral PH formula will not degrade the sealer.
Click here for more information about Tile Doctor Aqua-Pro
---
Shower Tile and Grout Cleaner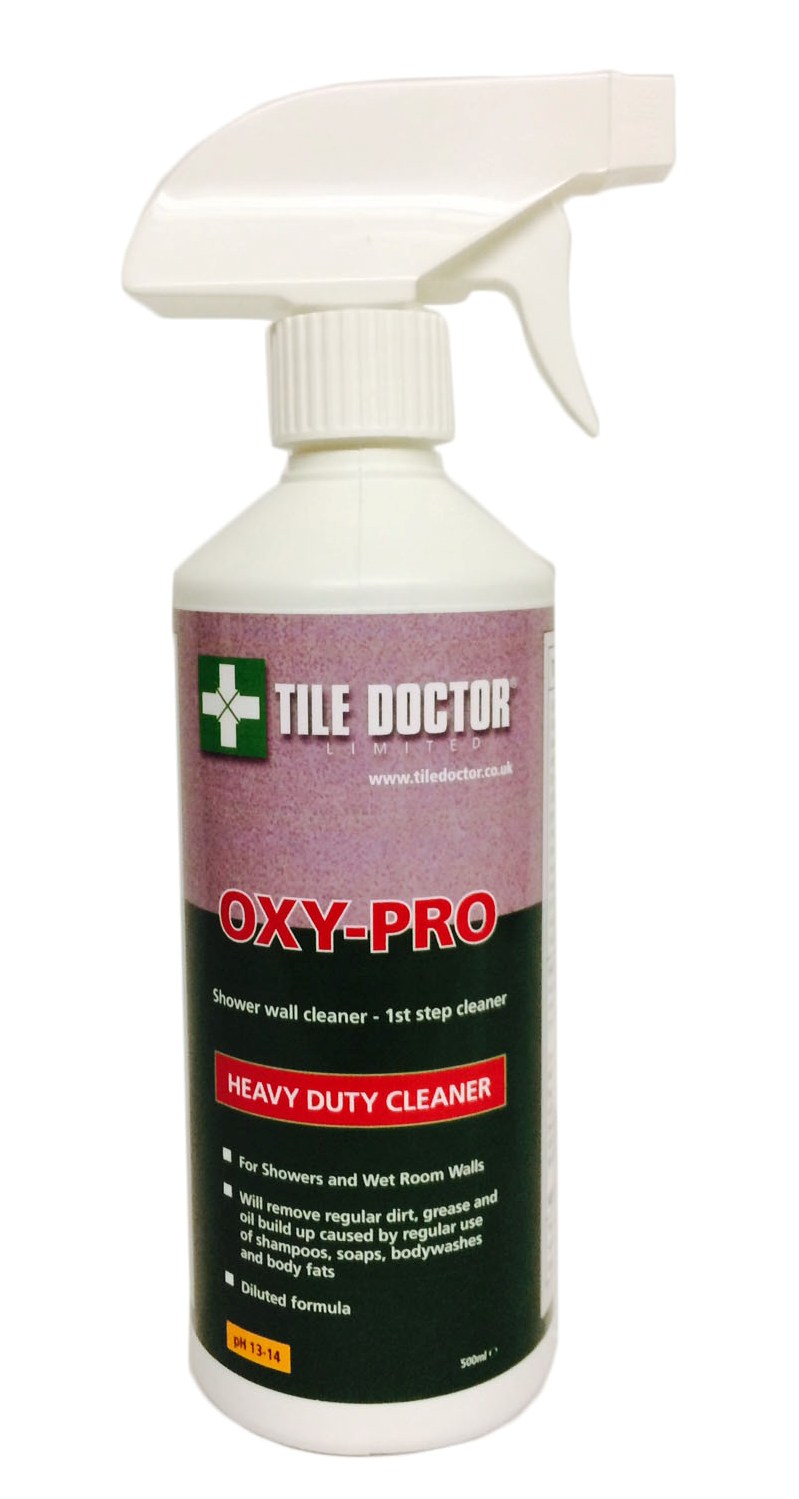 A powerful high-alkaline cleaner especially formulated for cleaning shower Tile and Grout. Highly effective cleaner that removes soap scum, body oil, mildew and algae from areas that have been neglected or subjected to frequent use.
Uses
Use on natural stone (such as Granite, Limestone, Slate, and Travertine), Ceramic, Porcelain, Quarry, Saltillo, Terracotta and Masonry surfaces.
Click here for more information about Tile Doctor Oxy-Pro
---
GROUT HAZE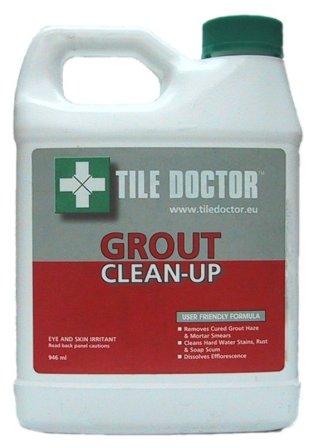 Grout Clean-Up contains concentrated hydrochloric acid and cleaner designed to penetrate below the surface to remove light grout smears (grout haze), mineral deposits, rust stains and efflorescence. This product is also effective for the removal of most hard water stains, lime deposits and soap scum.
Residual grout (grout haze) on tiles can be removed using a 1-3 solution of Tile Doctor Grout Clean-up. Care must be taken using acid on porous tiles. Test on one tile before applying on whole area. Follow the instructions on the bottle.


This product is ideal for removing Grout Haze, you need to put it in a spray bottle and spray it on to the wall tiles, and use a rough pan cleaner to remove the haze. On the floor do the same but trying use a scrubbing brush, rinse down with water afterwards you may need to do this 2 or 3 times, to get a good result. If the problem is more that of general dirt and grime then use Heavy Duty Tile and Grout Cleaner first.
Uses
Recommended for use on masonry surfaces and acid resistant stone such as Cermamics, Porcelain, Sandstone and Slate.
Click here for more information about Tile Doctor Grout Clean-Up
---
ACID GEL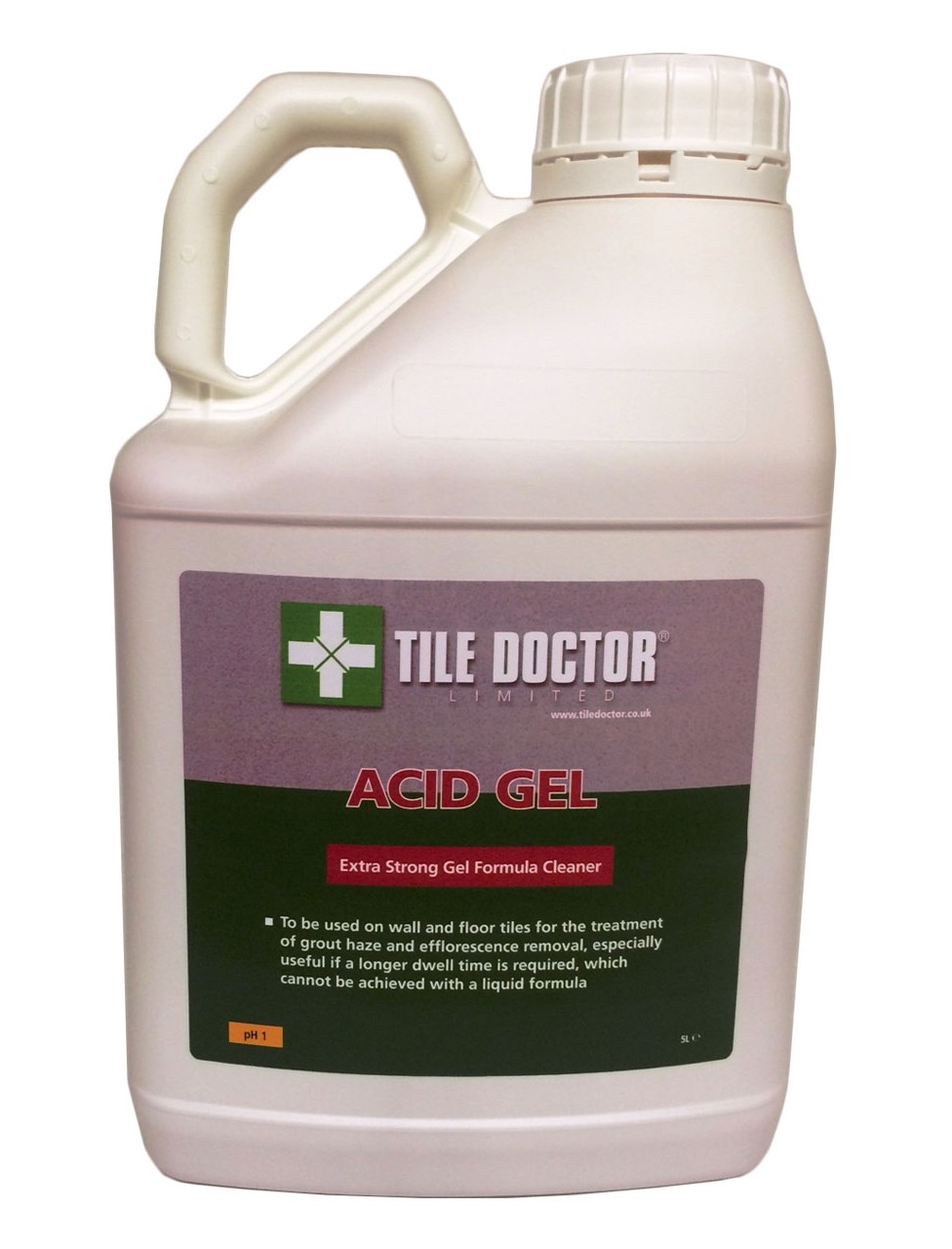 PH1 blend of Phosphoric and Hydrochloric acids in a gel form for the treatment of grout haze (grout smears) and efflorescence on wall and floor tiles. The gel is especially effective on vertical or sloped surface where where more dwell time is required.
Use
Especially effective on Victorian floor tiles to remove mineral salt deposits (efflorescence). Users should be aware that like any acid product it will etch acid sensitive tiles such as Marble, Limestone, Travertine and various types of Terrazzo, which can be restored using Tile Doctor Diamond pads if necessary.
Dirty White Grout Deep Cleaned and Sealed in Cheshire
Deep Cleaning Grout in a Ceramic Tiled Floor in Stroud
Epoxy Grout Removed from Porcelain Floor Tiles in Telford
Removing Grout Haze from a New Quarry Tiled in Norfolk
Removing Grout Smears from Porcelain Tiles in Newcastle
Deep Cleaning and Sealing Grout in South Yorkshire
Cleaning Mould from Grout in a Watford Bathroom
Removing Grout from Ceramic Tiles in Guildford, Surrey
Deep Cleaning Shower Tile Grout in Shepperton, Middlesex
Grout Cleaning in a Leatherhead Kitchen
Removing Old Grout Haze from Shower Tiles in Yorkshire
Removing Grout Haze from a Porcelain Tiled Bathroom
Renovating Mouldy Bathroom Grout in Oxford
Dealing with Mould on Grout in an Uxbridge Shower Cubicle
Deep Cleaning Shower Cubicle Grout in Millom
Renovating Mouldy Grout in Greater Manchester
Beautiful Edwardian Tiled Hallway Repaired and Restored
Grout Cleaning and Sealing in a Gloucestershire Hallway
Removing Mould from Grout in a Shower Cubicle
Grout Colouring and Cleaning of a Mosaic Tiled Kitchen Worktop
Mouldy Shower Cubicle Refreshed
Removing Grout Smears (haze) from Sandstone
Click here to see more photographs
Click here for more information about Tile Doctor Acid Gel
---
Source: Tile Doctor – Grout Care